About Us
Unstoppable Domains is bringing user-controlled identity to the Internet by creating NFT domains that put you back in control of your data.
Your Unstoppable domain is your cryptocurrency address, your login to the decentralized web, and your universal username.
By selling these domains direct to consumers for a one-time fee, we are creating a product that will shape the future of the decentralized web.
We are backed by Draper Associates, Boost VC, and Coinbase Ventures, and are growing exponentially.
Principles and Values
How We Act:
Act like an owner
Share knowledge, asynchronously where possible
Go down the rabbit hole
Meet our Team
We're a quickly growing team of entrepreneurs, revolutionaries, and lovers of all things crypto.
Employee Spotlight
Brad Kam on Building a Safer, Healthier World Through Blockchain Domains!
Bradley Kam,
Founder & Head of Biz Dev
My Unstoppable Story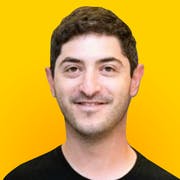 What We Offer
Ownership+Growth
Equity
Competitive salaries
401(k)* with matching
Crypto education program
Home+Office
Home office budget
Coworking space budget
Health+Wellness
Full medical, vision and dental coverage
Paid time-off
Remote-first work
Paid parental leave
EAP program*
Life insurance*
Travel assistance program*
Long-term & short-term disability insurance*
Culture+Connection
Swag
Monthly team buildings
Weekly "donut dates"
Conferences and events budget
Items with "*" are available to US/Canada-based employees only.
Diversity
Unstoppable Domains' remote, international team is made up of a wide range of diverse experiences, languages, cultures, nationalities and backgrounds. We are proud to be an inclusive employer with team members in over 18 countries!
Our small but quickly growing team is committed to expanding and investing in DEI (Diversity, Equity & Inclusion) initiatives to support our employees and communities.
Programs and Initiatives
Active collaborations with PowerToFly, Latinas in Tech and Collective to support diversity of talent.
Training content and anti-bias resources for recruiters, hiring managers and interviewers.
A structured interview process across all roles to support a fair and equitable interview process.
Typical interview process
Current Open Roles
Departments
Business Development, Crypto Relationships - Remote

Full Time · Remote, Canada

Business Development, Crypto Relationships - Remote

Full Time · Remote, US

Business Development, Crypto Relationships - Remote

Full Time · Remote, Europe

Business Development, Crypto Relationships - Remote

Full Time · Remote, Global

Business Development, Enterprise Fintech - Remote

Full Time · Remote, US

Business Development, Fashion - Remote

Full Time · Remote, US

Business Development/Partnerships - Remote

Full Time · Remote, Global

Director of Business Development AFRICA - Remote

Full Time · Remote, Africa

Director of Business Development, LATAM - Remote

Full Time · Remote, Global

Director of Business Development - Remote

Full Time · Remote, US

Director of Partner Engineering - Remote

Full Time · Remote, US

Director of Strategy & Operations - Remote

Full Time · Remote, US

Partner Event Lead - Remote

Full Time · Remote, California

Partner Event Lead - Remote

Full Time · Remote, US

Partner Success Lead - Remote, India

Full Time · Remote, India

Researcher/Lead Generator - Remote

Full Time · Kyiv, Ukraine

Sales Enablement Manager - Remote

Full Time · NYC, NY

Sales Enablement Manager - Remote

Full Time · Remote, US

Senior Sales Operations Manager - Remote

Full Time · Remote, AZ

Senior Sales Operations Manager - Remote

Full Time · Remote, California

Senior Sales Operations Manager - Remote

Full Time · Remote, US

Solutions Engineer - Remote

Full Time · Remote, US

Solutions Engineer - Remote

Full Time · Remote, Europe

Solutions Engineer - Remote

Full Time · Remote, APAC

Community Manager - Remote

Full Time · Remote, Australia

Community Manager - Remote

Full Time · Remote, Singapore

Community Manager - Remote

Full Time · Remote, Dublin

Community Manager - Remote

Full Time · Remote, Canada

Community Manager - Remote

Full Time · Remote, US

Customer Experience Agent - Remote

Full Time · Remote, Dublin

Customer Experience Agent - Remote

Full Time · Remote, Canada

Customer Experience Agent - Remote

Full Time · Remote, Australia

Customer Experience Agent - Remote

Full Time · Remote, US

Customer Experience Agent - Remote

Full Time · Remote, Singapore

Manager, Global Community Team - Remote

Full Time · Remote, US

Manager, Global Community Team - Remote

Full Time · Remote, San Francisco, CA

Manager, Global Community Team - Remote

Full Time · Remote, Canada

Technical Support Engineer - Remote

Full Time · Remote, Canada

Technical Support Engineer - Remote

Full Time · Remote, San Francisco, CA

Technical Support Engineer - Remote

Full Time · Remote, US

Middle iOS Developer

Full Time · Remote, Ukraine

Senior Blockchain Developer - Remote

Full Time · Remote, Ukraine

Senior Full Stack Engineer - Remote

Full Time · Kyiv, Ukraine

Senior Fullstack Engineer - Remote

Full Time · Remote, Global

Senior Fullstack Engineer - Remote

Full Time · Remote, Canada

Senior Fullstack Engineer - Remote

Full Time · Remote, Canada

Senior Fullstack Engineer - Remote

Full Time · Remote, US

Senior Product Designer - Remote

Full Time · Remote, Ukraine

Senior Software Engineer, Developer Tools - Remote

Full Time · Remote, Ukraine

Senior Software Fullstack Engineer - Remote

Full Time · Remote, Global

Senior Software Fullstack Engineer - Remote

Full Time · Remote, US

Affiliate Marketing Manager - Remote

Full Time · Remote, California

Affiliate Marketing Manager - Remote

Full Time · Remote, Canada

Affiliate Marketing Manager - Remote

Full Time · Remote, US

Consumer Marketing Manager - Remote

Full Time · Remote, US

Content Marketing Manager - Remote

Full Time · Remote, US

Content Marketing Manager - Remote

Full Time · Remote, Canada

Content Marketing Manager - Remote

Full Time · Remote, California

Content Marketing Manager - Remote

Full Time · Remote, San Francisco, CA

Copywriter - Remote

Full Time · Remote, US

Creative Director - Remote

Full Time · NYC, NY

Creative Director - Remote

Full Time · Remote, San Francisco, CA

CRM Operations Specialist - Remote

Full Time · Remote, California

CRM Operations Specialist - Remote

Full Time · Remote, Canada

CRM Operations Specialist - Remote

Full Time · Remote, US

Growth Marketer, Paid Social - Remote

Full Time · Remote, US

Growth Marketer, Performance Marketing - Remote

Full Time · Remote, US

Head of Social - Remote

Full Time · Remote, California

Head of Social - Remote

Full Time · NYC, NY

Head of Social - Remote

Full Time · Remote, US

Head of Social - Remote

Full Time · Remote, Canada

Partner Development Representative - Remote

Full Time · Remote, US

Partner Marketing Manager - Remote

Full Time · Remote, US

Product Marketing Intern - Remote

Full Time · Remote, US

Product Marketing Intern - Remote

Full Time · Remote, US

Product Marketing Manager - Remote

Full Time · Remote, California

Product Marketing Manager - Remote

Full Time · Remote, US

Senior Director, Growth Marketing - Remote

Full Time · Remote, US

Social Media Marketing Manager - Remote

Full Time · NYC, NY

Social Media Marketing Manager - Remote

Full Time · Remote, US

Strategic Partnership Marketing - Remote

Full Time · Remote, US

Strategy & Operations Analyst - Remote

Full Time · Remote, US

Business Recruiter - Remote

Full Time · Remote, US

Business Recruiter - Remote

Full Time · Remote, Canada

Business Recruiter - Remote

Full Time · Remote, California

Chief People Officer - Remote

Full Time · Remote, US

Global Director of Talent Acquisition - Remote

Full Time · Remote, Global

Recruiting Manager - Remote

Full Time · Remote, US

Recruitment Marketing Specialist - Remote

Full Time · Remote, US

Senior Business Recruiter - Remote

Full Time · Remote, US

Senior Technical Recruiter - Remote

Full Time · Remote, US

Technical Recruiter - Remote

Full Time · Remote, Canada

Technical Recruiter - Remote

Full Time · Remote, California

Technical Recruiter - Remote

Full Time · Remote, US

Technical Recruiter - Remote

Full Time · Remote, Ukraine

Technical Recruiter - Remote

Full Time · Remote, US

Senior Product Manager, Data and Internal Tools - Remote

Full Time · Remote, San Francisco, CA

Senior Product Manager, Data and Internal Tools- Remote

Full Time · Remote, US

Technical Writer - Remote

Full Time · Remote, Global

Technical Writer - Remote

Full Time · Remote, California